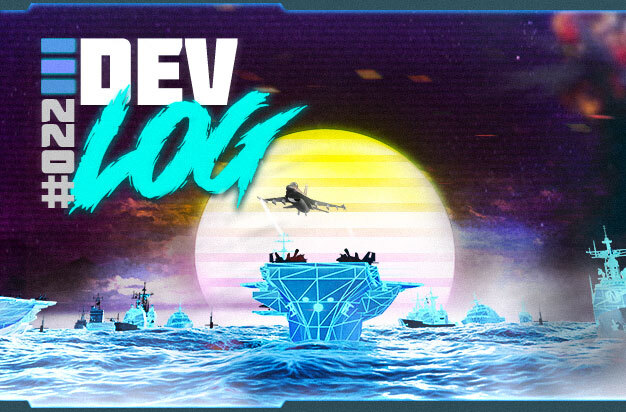 + + + + DEV LOG: 22 + + + +
Commanders!
It's your local friendly Community lead here - Yak. When I'm no where to be found on our platforms, it's safe to say we're all giving headaches to the developers and producers! (They are happy to oblige) Why you might ask? Well! The designers are cooking up quite some spicy dishes, with an entree of assorted (and exquisite) taste breakers; I'm excited to disclose what's on the menu for the coming months from the rag tag bunch over at Dorado. Without further ado, let's get cracking.
Amphibious Fighting Vehicle:


After looking at the stats behind Amphibious Fighting Vehicle, the general consensus was that they are relatively underused, but not exceptionally so. We suspect that the research tree path might be an influence here, and for a first iteration we are updating the Amphibious Fighting Vehicle to be separated from the Armored Fighting Vehicle research path, along with all the respective upgrades irrespective of each other. This is coming very soon.


Air-Assault can use Carriers:


In real world scenarios, carriers are used to launch air-assault operations regularly. A function absent from the current implementation of CoN, adding this change is an interesting proposition given that Air Assault can definitely benefit from it along with Naval skirmishes.

Thus, changes to Air-assault units are coming! We will soon allow Air-Assault able units to use carriers as launch points, extending the range they can use to Air-assault. We anticipate this to be available before the release of Season 9.


Helicopter Carrier:


The aircraft carrier is pretty expensive, and serves a pretty important role. We want to emphasize that. As a naval player, this is your capital ship. However, there's some aspects of the aircraft carrier which the Heli Carrier should be able to handle in the early game, or at least serve as a way for naval players to put pressure on their foes beyond their coastal cities. Moreover, this helps make helicopters more attractive as an option.

With the current implementation of Carriers, it is a more attractive choice to focus on aircraft rather than helicopters (at least in some instances. In light of this, we are working on a new unit that will act as a cheaper-costing variant of the Aircraft Carrier. The Helicopter Carrier is able to carry helicopters and act as an HQ (base of operations) for the helicopters, like any other airport would. This unit will not be a seasonal unit. This update is also expected sometime after Season 9.


Ship carry-capacity


Carry-capacity is something that we haven't really touched in CON previously. Transport ships fill that role. But units like the Heli Carrier and Aircraft Carrier regularly carry compliments of troops to engage in ground operations. This is the most experimental feature/idea until now, and as it stands we are exploring options and brainstorming ideas on expanding gameplay in this domain. We don't have a lot of specifics here as the feature is in it's infancy production-wise. The general idea is to give ships the ability to utilize carry-capacity for units. This will allow them to transport units faster than if they were transport ships. Eventually, it will allow units like the Airborne infantry to 'ferry' to the aircraft carrier. This will require a fair bit of development, definitely will be after Season 9.

--
In other news, just in case you missed our last Dev log, we officially
announced
our plans to give a much needed facelift to the Desktop client of the game, updating the user interface and graphics style. You can see previews and ask questions
here
.
Since our last log, players have come forward with some questions which I am going to be sharing here as well for everyone.
Player question: Does this mean that the Desktop client (
conflictnations.com
) will become like the Mobile (Android/iPhone) client?
Answer: Not exactly, no. We will be updating the graphics (Sea, provinces, user interface art style) to look much closer to mobile. But, we will be doing more work to make sure that user interface and experience is adapted and reworked to keep desktop in mind. This means widgets such as the command dial, will not be on the new client.
Player question: Are the User Interface differences between Desktop and Mobile going to preserve the best elements of both?
Answer: That is the best case scenario, yes. Truthfully though, on launch there won't be all the features/implementations done yet. It will be a tiered approach, of course, keeping in mind community/player feedback. As I said in my original post. Players, have the option to opt out of the new client for months (if not year) after Beta launch, so you will be in a position to voice your feedback while being relatively unaffected using the 'classic' client.
Player question: Do our accounts reset to level 1?
Answer: No. Your account will remain untouched and fully functional without losing anything.
Player question: Will this change game mechanics?
Answer: No. The base game remains exactly the same, unless an update states otherwise to improve the game.
And with that, this log is at an end. Until the next one! GLHF!
Dorado Games
Conflict Of Nations