Explanation for English-speakers: It's a role-play map only for Polish players and Polish-speakers. I have permission from CC @Aeblemost for that one thread in Polish. Thank you for your understanding.
POLSKA SCENARIUSZÓWKA
Hej wszystkim. Zauważyłem, że nowa gra od Dorado już w beta testach cieszy się dużym zainteresowaniem wśród graczy CoW i SM1914. Z tego też powodu postanowiłem skupić wszystkich polskich graczy na jednej, konkretniejszej mapie scenariuszowej. Być może będzie to w przyszłości baza pod budowę polskiego community? Jako, że to dopiero początki CoNa (gra ma jeszcze sporo mniejszych błędów) będzie to scenariuszówka skromniejsza - w sumie to zwykła mapa, ale z naciskiem na budowanie klimatu w gazecie i dyplomacji. Zasad będzie tylko kilka:

1. Na mapie może zagrać każdy polski gracz, który zapisze się w tym temacie. Proszę pamiętać, że nadal jesteśmy na angielskim forum więc proszę pisać w tym temacie mimo wszystko po angielsku - do zapisania się na mapę wystarczy napisać post ze swoim nickiem na CoN i nazwą państwa, które wybiera się do gry.
2. W gazecie i na czacie In Game możemy pisać po polsku z racji tego, że będą tam sami Polacy. Na pozostałych kanałach czatu jest to surowo zabronione.
3. Na mapie obowiązuje zakaz używania Golda.
4. Na mapie obowiązuje 7 dni okresu nieagresji względem graczy. Oznacza to, że można atakować wraz z nastaniem 8 dnia w gazecie. Boty można atakować od razu.
5. Jest to mapa role-play więc dobrze by było gdyby każdy budował historię, klimat i charakter swojego państwa i swojej polityki poprzez odpowiednie artykuły w gazecie i wiadomości w Dyplomacji.
6. Mapa wystartuje 7 stycznia (sobota) o godzinie 16.00. Jeżeli do tego terminu na mapę nie zapisze się minimum 13 osób to zapisy zostaną przedłużone.
7. Namiary na mapę zostaną wysłane na PW Discorda lub PW Skype.
Przypominam, że żeby móc pisać na forum należy się najpierw na nim zarejestrować - to kwestia dosłownie 30 sekund więc mam nadzieję, że to nie będzie dla nikogo problem. Konto na forum przyda wam się zresztą w przyszłości.







Lista dostępnych państw:


Algieria - Cezar Wilhelm
Argentyna - Sztyma


Kanada - IwanGrozny1968




Demokratyczna Republika Kongo - KesilKirasjer




Egipt - DatDomi


Niemcy - GoldDragon112
Indie - strzeleckaktus


Indonezja - Phillek


Iran - slawekns
Włochy - cinekfarmer12


Meksyk - oleketer




Polska - Jacek5000




Arabia Saudyjska - Huragan05




RPA - mati100243




Szwecja - Lord Twardy


Turcja - devaroden1773
Wielka Brytania - ZniszczeRuskich


Wietnam - GoldBRO


Australia - Sovin
Brazylia - Che Gueavara
Chiny - zjawa666


Kolumbia - Ryan1985




Francja - Defous




Japonia - Sungmistrz




Rosja - Reger2




USA - *Kacper*



26/26



Lista rezerwowa: M4RiNez, Lepki__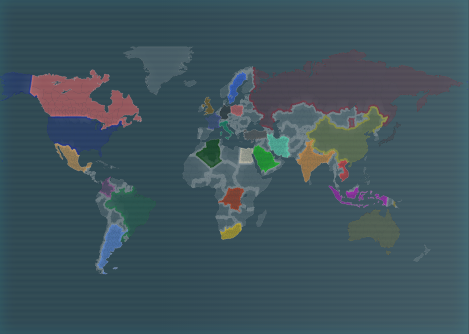 The post was edited 55 times, last by Defous ().