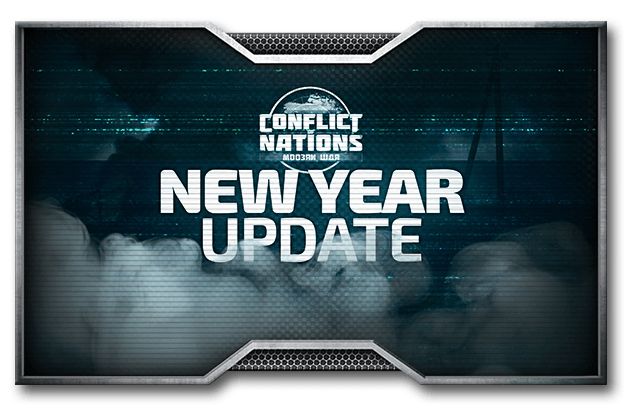 Dear players,
In our first update of the New Year we are improving several key aspects of the game, repeatedly requested by our player over the past weeks.
First and foremost, we noticeably darkened the fog of war throughout the game. Besides aesthetical reasons, this was primarily done to distinguish units view ranges from their radar ranges.
Tying into the new fog, we simplified all units view distances, unified terrain view ranges and generalised the way enemy units are treated by the fog of war: In friendly territory they show up fully, on foreign soil they are unidentified unless scouted out accordingly.
Balancing-wise we buffed and nerfed several units according to feedback and observation, specifically mentioning insurgents who now are no longer stealthy and move less often than before, stealth planes which now have more days before becoming countered, and artillery with some reduced ranges to reflect the overall rock-paper-scissor of air/ground/arty gameplay. Additionally we have revamped cruise missiles, increasing their mid to late game potential, as well as limiting players from rushing them. This means that the Strike fighter research tree, Destroyer research tree, Missile research tree, Damage stats and more have been updated - see below list for details.
Furthermore, airlifting via transport planes has been overhauled to now reflect the type of unit being transported, as well as the technology level and range involved. Airlifting light units remains unchanged, but larger units now will be only able to airlift later in the game - simulating advances in airlifting capability and focus of armed forces deploying said units globally. This will make naval transporting a necessity while removing the threat of instantly shifting armed forces. To assist ground units in movement we significantly increased the transport speed of Military Logistics.
Finally, the holidays showed that our AFK-timer of 48h was just not enough to stop the AI from taking over player nations, so we upped the inactivity timer to the abandon setting of 72h. Please note that players who do not act in a given match for 72h straight are considered "abandoning" game and will be accordingly removed from coalitions etc.
We hope that the above changes (and all the others listed below) meet your expectations and are looking forward to an extremely exciting and productive CON 2018.
IMPORTANT: Please note that most balancing and map changes require a fresh start to experience them. Exception to this rule are the Updated Insurgents, which will be rolled out across all maps and versions. Happy Rogue State hunting!
Transport Plane Overhaul
Revamped availability of Strategic Airlift, made units increase transport levels and added ranges to each tier


Tier I (max 2000 range)


Motorized Infantry, Naval Infantry, Airborne Infantry, Special Forces, National Guard, Combat Recon Vehicle, Towed Artillery


Tier II (max 5000 range)


Mechanized Infantry, Armored Fighting Vehicle, Amphibious Combat Vehicle, Tank Destroyer, Mobile Anti-Air, Mobile SAM, Mobile Radar


Tier III (max 10000 range)


Main Battle Tank, Mobile Artillery, Multiple Rocket Launcher, Theater Defense System




Visuals Overhaul
Improved Fog of War visuals

General


Removed terrain dependent Visual Range penalties

All enemy ground units appear as unidentified when not on friendly territory


Changed Visual range for units


Ground Units


Combat Recon Vehicle and Special Forces to 35

Towed Artillery to 25/35

All other to 25


Air and Naval Units to 35

Submarines to 25

Unit Balancing
Naval Infantry


Swapped Level 3 and Level 5 Researches (NBC Protection and Portable Air Defense)


Armored Fighting Vehicle


Swapped Level 3 and Level 5 Researches (NBC Protection and Reinforced A)


Towed Artillery


Decreased level 1 attack range from 60 to 50


Mobile Artillery


Decreased level 1 attack range from 60 to 50


Multiple Rocket Launcher System


Decreased attack range from 100/100/125/125/150 to 75/75/100/100/125


Transport Plane


Introduced Level 2 and Level 3 Transport Planes with progressive range and Hit points increase


Adjusted Hit points from 10 to 5/10/15

Adjusted range from 2000 to 2000/5000/10000


Insurgents


No longer have Stealth

Reduced amount of activity


Air Superiority Fighter


Increased Infantry damage from 2/2/2/2.5/2.5/3/3 to 2/2/2/3/3/4/4

Increased Armored damage from 0.5/0.5/0.5/1/1/1/1.5/1.5/1.5 to 1.5/1.5/1.5/2.5/2.5/3.5/3.5


Naval Air Superiority Fighter


Increased Infantry damage from 2/2.5/3 to 2/3/4

Increased Armored damage from 0.5/1/1.5 to 1.5/2.5/3.5


Stealth Air Superiority Fighter


Increased Infantry damage from 3.5 to 4

Increased Armored damage from 2 to 3.5


Strike Fighter


Removed Cruise Missile Capabilities from Tier 1

Increased European Doctrine building requirements from Air Base Level 1 to Level 2

Decreased Aircraft Damage from 3/3/4/5/5/8/8 to 2/2/3.5/4.5/4.5/7/7

Decreased Helicopter Damage from 4/4/5/6/6/8/8 to 3/3/4/5/5/7/7


Naval Strike Fighter


Removed Cruise Missile Capabilities from Tier 1

Decreased Infantry damage from 5/7/10 to 5/7/9

Decreased Armored damage from 5/7/10 to 5/7/9

Decreased Aircraft damage from 3/5/8 to 3/5/7

Decreased Helicopter damage from 4/6/8 to 4/6/7


Stealth Strike Fighter


Decreased Aircraft damage from 10 to 8.5


Helicopters


Helicopters can now be ferried with Transport Ship

Decreased Patrol Radius from 75 to 50

Decreased Ferry range from 2000 to 1000


Naval Patrol Aircraft


Decreased Patrol Radius from 75 to 50


Frigate


Decreased Aircraft damage from 8/8.5/9/10/10.5/11/12 to 7/7.5/8/9/9.5/10/11


Destroyer


Increased Aircraft damage from 1/1/1/1.5/1.5/2 to 2/2/3/3.5/3.5/4

Removed Cruise Missile Capabilities from Tier 1

Swapped Increased Missile Magazine Research for Increased Anti Air


Cruiser


Increased Aircraft damage from 1.5/1.5/2.5/2.5/3.5 to 2/2/3/3/4


Ballistic Missile Submarine


Decreased Naval Base requirement from level 5 to level 4


Cruise Missile, Conventional


Adjusted Armored damage from 30/35/40/50/55/70 to 30/35/40/55/60/70

Adjusted Building damage from 2/2/2/3.5/3.5/5 to 2/2/2/4/4/5


Cruise Missile, Chemical


Decreased Infantry damage from 50/55/60/75/80/100 to 40/45/50/65/70/80

Decreased Armored damage from 25/25/25/35/35/50 to 10/10/10/15/15/20

Increased Building damage from 1.5/1.5/1.5/2.5/2.5/3.5 to 2/2/2/4/4/5

Increased Population damage from 15/15/15/20/20/25 to 30/35/35/40/45/50

Increased Morale damage from 10/10/10/15/15/20 to 15/15/15/20/20/25


Cruise Missile, Nuclear


Decreased Infantry damage from 100/105/110/125/135/150 to 50/55/60/75/80/100

Decreased Armored damage from 125/130/135/150/160/200 to 50/55/60/75/80/100

Decreased Naval damage from 60/60/60/80/80/100/100 to 50/55/60/75/80/100

Increased Building damage from 10/10/10/15/15/20 to 15/15/15/20/25/30

Increased Population damage from 35/35/35/40/40/50 to 50/60/65/75/80/90

Increased Morale damage from 15/15/15/20/20/25 to 20/20/20/25/25/30


Cruise Missile Launcher


Increased Secret Weapons Lab requirement from level 1 to level 3


Ballistic Missile Launcher


Decreased Secret Weapons Lab requirement from level 3 to level 1

Renamed Tier 2 Easter Doctrine Ballistic Missile to SS-20 Saber

Research Balancing
Theater Defense System


Adjusted Research Day Available from 5/8/12/15/22/27 to 5/8/12/15/22/28


Mobile Radar


from 3/7/13/17/23/25 to 3/7/13/17/25/28


Stealth Air Superiority Fighter, Stealth Strike Fighter, Stealth Bomber


Research Day Available changed from 18 to 16


Naval Air Superiority Fighter, Naval Strike Fighter


Research Day Available changed from 4/15/26 to 4/14/26


Frigate


2/4/7/13/17/22/24 to 2/4/7/13/17/24/26


Cruise Missiles


Adjusted Research Day Available from 2/5/9/13/16/23 to 3/6/11/15/18/24


Ballistic Missiles


Adjusted Research Day Available from 3/6/11/15/18/24 to 2/5/9/13/16/23[b][/b]

Building Balancing
Air Base


Increased Hit points from 5/10/15/20/25 to 10/15/20/25/30


Airfield


Increased Hit points from 5 to 10


Local Industries


Increased Hit points from 5/10/15 to 10/15/20


Combat Outpost


Introduced level 2 and level 3

Adjusted Costs


Basic Supplies from 500 to 500/750/1000

Fuel from 750 to 750/1000/1250

Industrial Components from 750 to 750/875/1000

Money from 2000 to 2000/2750/3500


Adjusted Upkeep from 100 to 100/110/120 Money

Adjusted Construction time from 9 to 9/14/18

Adjusted Damage reduction from 33% to 33%/43%/56%

Adjusted Morale Bonus from 10 to 10/12.5/15

Adjusted Hit points from 40 to 30/40/50


Field Hospital


Introduced level 2 and level 3

Adjusted Costs


Basic Supplies from 500 to 450/650/850

Industrial Components from 500 to 450/550/650

Electronics from 350 to 200/300/400

Money from 1500 to 1250/1750/3500


Adjusted Upkeep from 100 to 100/110/120 Money

Adjusted Construction time from 9 to 9/14/18

Introduced Morale Bonus at 10/12.5/15

Adjusted Hit points from 10 to 10/15/20


Military Logistics


Increased Movement Speed Bonus from +100% to +150%

Made Military Logistics conquerable (if not blown up prior to the take-over)

Logistics still remain "hidden" for enemies as long as a province is not conquered

General
Increased AI replacement for inactive players from 48 to 72 hours

Auto-Gen games can now be joined for the first 2 days (previously it was only 1)

Added sound to message notification

Introduced walking animation to Airmobile Infantry

Fixed issue with units not visible on radar if in range of multiple radars

Fixed mixed up descriptions of level 2 and 3 Motorized Infantry researches

Fixed outdated or inaccurate building descriptions

Map fixes
World 2020 Map


Renamed Xankhendi province to Stepanakert due to font issues

Fixed connection and map point issue in Bacolod, Philippines


Europe 1990 Map


Renamed duplicated Niksic province of Yugoslavia on Europe 1990 Map

Fixed issue with Soviet Union not having capital set properly

//Your CoN Team
Dorado Games
Conflict Of Nations