I hesitated for quite a long time before deciding to establish a presentation topic for my alliance. Two reasons for that : 1°) We don't need it. 2°) There is a symbolic show of support for the game in the act. Supremacy is my cradle, and i remain cautious, after the "adventures" of 30K and NWE. However, it has been nearly a year since CoN appeared on the radar, and i can say with a spirited confidence that CoN evolves for the better. I feel that the approach of "hearing complaints, feedback" while not "obeying to the community", and being open to discuss the fact that a company needs to grow and be profitable, will lead to an super balance between business and user aspects. After all, it is a Free 2 play. Not the charity.
For an alliance, to be on a game is pretty much to accept to be a country, under the laws of a godly Empire. If suddenly God decides that blood will rain, then blood will rain, and an alliance can only decide to live under the rain and accept it, or to leave for another sphere, and another God. Through our prayers, of course, we hope for the rain to stop, and we pray for plentiful harvests, in order to live in prosperity. So, here we go :
Kingdom of Nelva
(Nelva Task Force : 2007-2009
Nelva Alliance : 2009-2013
Kingdom of Nelva : 2013-20XX)

Constitutional Monarchy - "Education, Valiance, Kindness"
Hymn : Mussorgsky's promenade Pictures at an Exhibition

(From our Supremacy Description) : Nelva is an alliance opened to the world, based on the individual responsability in self-accomplishment. Underlying ideology : it's in the happiness of the members that can be created the energy and activity to create projects. In conclusion, the governement must work first to the happiness of its population, and second only for the alliance growth.
Nelva spans an active population of 32 active (connected and speaking daily), 5 passive (not active right now, for example for a long time trip, they come occasionally, like once a week), 10 "near earth objects" (Old citizens that departed for a long time, remain citizens per services, and tend to become again active members after sometimes one year of absence), and a small dozen of foreign agents. Globally, we are an "expanded" community of 60 people, with a sister nation, playing other games, and ruled by other people, of ~30 people. We may not play with them, but they are our "kin", and we share most of our values (with time, sadly, what must happen will happen, and our cultures will drift apart).
The Kingdom is ruled under a constitution that was first enacted in 2015, and revised approximately once per year, to mirror the social evolutions and needs of the alliance. The consitution states the basic roles of how the governement is composed and works, what are his duties, and his limits. Nothing Fancy :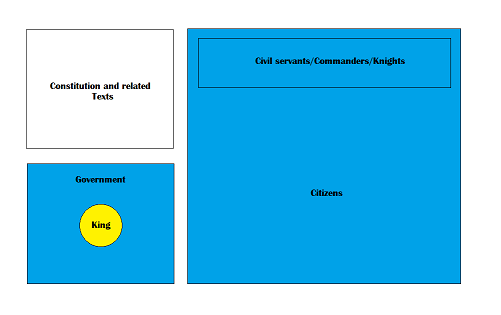 The Citizens are the living heart of the Kingdom. They train, they fight, they debate, and they live in our community. Nelva has (last census : December 2017) an average age of 30 years old (i'm 25 myself.), and so enjoys a great diversity of skills, life experience, and also faith. "In 2010, there were many things i was considering i was the only one able to do. In 2018, there are many things i would fail to do the tenth of what our citizens do."
Our youngest citizen is 16 years old, and our oldest citizen is 71 years old. We are French, but the absolute majority of our members speak english, some germans, some turk, some Malay even.
The Civil Servants, Commanders, and Knights, are that part of the citizens that, through their personalities, can be qualified, one way or another, of being an "elite". Maybe because they are in real life accountants, or managers, (or for one, Quarterback of a Football team ---> Yeah, we play it in France

), their personalities make them very important for specific parts of the alliance daily running, or growth.
The Government is composed from people that can dedicate a regular time to the alliance services, and they are managed by, of course, the King, which is as much a president than a prime minister. Beside the constitution that put hard limits to our powers, the King is before all the guardian of ethics. This role especially is visible in the recruitment and the social lines of the alliance. To summarise it : following the good old motto that it's more desirable to have your ennemies at your gates than in your walls, he ensures that every individual that damages the power of the alliance (or its prosperity) without hope of "getting better" will be dealt with swiftly.
I colored those blocks in Blue, White and Yellow, in order to explain a bit our flag.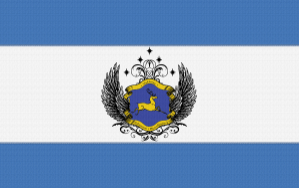 While the King and Governement are central, they are circled by the laws which are all to it. The Citizens, both above and below, are the alliance as a whole.

The Royal arms are a Golden Stag on a blue field, with the motto "Stat honora dum volvitur orbis" (The world changes but honor stands)
It has been our flag since the establishment of the Kingdom. Sometimes we use it in coalitions. I have the arrogance to think that Nelva troops fight better under this flag, but that they use it only when a traitor or something of the kind legitimates it. Beyond the flag, the most important thing for the alliance is embodied through the national Motto : Education, Valiance, Kindness.
In a few words :
Education : Be humble even if you are a master. Learn and Evolve.
Valiance : Fight. Don't let jerks win without the fight of their life. Smile to the braves.
Kindness : Don't be a jerk. Lend your Valiance to those who may be too weak to defend against jerks.
The choice of the Stag as a royal emblem echoes those values (and has nothing to do with Game of Thrones

) :
In the Christian Universe of Myths and Symbol, the Stag as an animal is the paragon of the fight against evil (Serpent). We do not know precisely the origin of this symbolism, but the most probable is that the Stag was a very important part of Celtic culture, due to nearly all of its body being used by the Celts, either to eat, heat themselves, or protecting them from the cold. This central place of the Deer in their daily life, as well as the importance of the hunt in the spirituality, probably was assimilated by Christianity when it fought pagan religions.
This symbol remains, as well as the serpent, for example on the sigil of the Knights of Nelva, dedicated to Valiance.
"A Bit of Steel, A lot of Blood, and mountains of hate" - Motto of the Knights.
Every day, be it through governement, or martial training, bringing the fight to traitors, and others of the kind, is the social fuel of the alliance. We do not "hate" them that much, it's just that they are a very convenient enemy, and they are perfect to develop
empathy, bravery, and a strong sense of "military determination" in the minds and hearts of any citizen (especially the new ones !). Especially when Nelva fighters are defeated on the field of battle by such people, the shockwave is enough to motivate the alliance into great surges of "boost". One may accept defeat, it's the path to mastery, but One should not accept to remain defeated by traitors. And through anger, the juice of training, organisation, expansion, militarisation, may flow. It's a small world, people will encounter themselves again and again.
For the others that beat Nelvas "plain and simple, honorably", on the field, it's pretty simple : we try to make friends and keep them as contacts. Two people can fight themselves and be good friends, if they share values. Their confrontation will benefit the two. This is when we don't outright propose them to join Nelva, of course, haha.
Ultimately, as any alliance, we want to endure and grow. The tool to do that may be a bit original, but it works. (and has worked for 10 years. Traitors are pretty much a renewable resource, and they often are very obliged to insult, taunt, and such things that are perfect for the education and "determination". Revanchism, ha. It's something we french know well)
mid-2014 War Propaganda, in the midst of a War against a Wolfpack-Traitor alliance, to honor all the Nelva recruits that launched themselves in the bloody fight without a second thought. Some are commanders, in 2018.
Running an online alliance is pretty much like running a small company, except you need to find other way than money to keep your employees productive. May they play or work, they are humans.