Dear Players,
For today's update we are very happy to announce that we have a brand new Global map: World Redux. This comes after popular demand, and we are happy to provide our dedicated players with the opportunity to create and play on this map which will provide some heated combat, so it is best you keep your wits about you.
We are aware that some of you have been experiencing technical issues over the past two weeks, and we are continuously working hard to increase performance across all platforms. A big thank you to everyone who assisted us by reporting these issues, today's update is heavily focused on fixes to the back-end.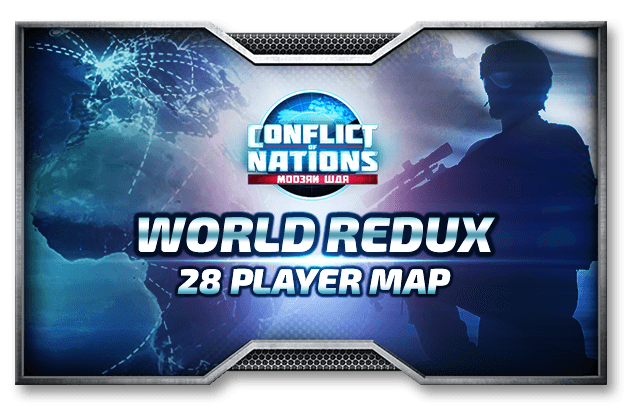 Map Release: World Redux
28 Players

World Map

Players who reach Rank 11 will unlock the ability to create this map themselves

Updates
Added "Reveal Ground Stealth" ability to Amphibious Combat Vehicle

Increased hit-points of landed Aircraft to make them less vulnerable

Fixes
Fixed issue where the gold tool-tip was not updating immediately after spending Gold

Fixed issue where demolishing an Airbase would immediate destroy all outbound Transport Aircraft

Security Council is no longer activated for new players, preventing Alliance creation spam and newbie shared-intel-abuse

Fixed issue where intel from previous days would wipe occasionally

//Your CoN Team
Dorado Games
Conflict Of Nations
"Victory does not always rest with the big guns: but, if we rest in front of them we shall be lost." - Commander Argentius
The post was edited 1 time, last by Yak ().