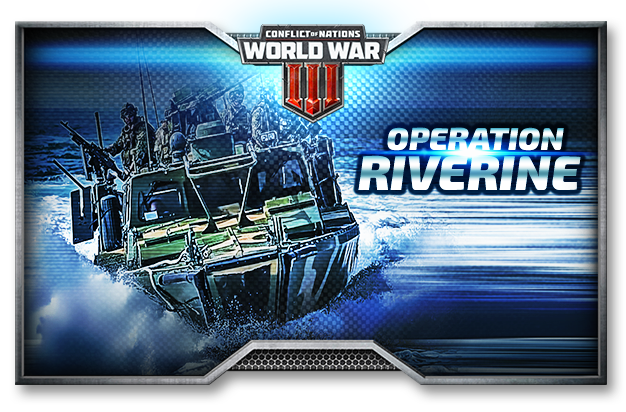 + + + + EVENT + + + +
Operation Riverine games will be available for a limited time starting; Today! The scenario gives a complete overhaul to the world map, including but not limited to:
Starting units, the early game is much more demanding in a tactical sense. You are given a UAV and Mobile Radar at the start of the game, so make the best of them!

Rivers, for the first time in any of our games, rivers are making their debut on the revamped 64 Player World Map. This will undoubtedly change the way you play; be it through tactical campaigns or strategic research and defenses.

Provinces,including cities have been reworked in all areas. Province Borders, City Placements, Resources, Harbors and more!

You can expect many other changes to be present, new AI nations, more islands, improved map background, rebalancing to mention a few.
Let us know what you think over the coming days/weeks
Dorado Games
Conflict Of Nations
"Victory does not always rest with the big guns: but, if we rest in front of them we shall be lost." - Commander Argentius