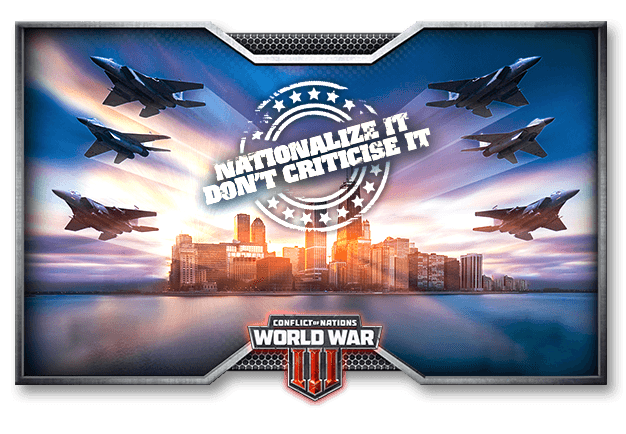 + + + + UPDATE + + + +
Dear players,
Welcome to Conflict of Nations 2019! And it will be a really amazing year for our game - no doubt about it...
To start off with a bang we are introducing City Nationalization, a feature which should (again) change how many of you see and play the game. No longer will minor nations below 6 cities need to live out their days in miserable squalor. Did you ever secretly dream of making minor nations great again? If yes, then this update is all yours. Countries starting the game with less than 6 cities will now be allowed to quickly and FREELY (no costs incurred) declare conquered cities as their "Homeland" - allowing you to build the nation you always dreamed about. This mechanic theoretically even allows you to migrate nations, eg. Germany to South America (obviously not without losing your fatherland, but hey, if you are craving a place in the sun this may come in handy..).
We are also testing a new way of merging players of different languages on large maps. This is to reduce the reason for the communities biggest gripe: not enough activity on certain maps. Starting today we will be hosting a 150 player merged map where all of you will be contesting with each other - no longer segregated by language. Please note that certain server-side messages will always be in English, but the rest of your game will be localized as usual. Kindly revert to ENGLISH as the common language for the chat on said maps. If this is successful and players like it we will continue improving this experience and roll it out for other maps as well.
Finally we added full Chinese localization - so if you are a speaker/reader of both traditional and/or simplified Chinese, please tell us what you like (or dislike) about it.
PLEASE JOIN NEW GAMES GENERATED POST-UPDATE TO BENEFIT FROM ALL LATEST CHANGES!
NEW FEATURES
City Nationalization: Now possible to convert conquered cities to homeland cities, producing resources and mobilizing units at full capacity

International Games: Certain games will now be international and appear on the "New Games List" regardless of player language setting

Chinese Language: CON is now available in Chinese (expatriate) testing the waters for further Asian expansion (both ingame and business wise)


BALANCING CHANGES

Rebalanced Naval Missile Defense - they were effectively becoming an impenetrable shield
Adjusted Frigate DMG against Missiles to 2.5/2.5/3.5/4/4/4/4

Adjusted Destroyer DMG against Missiles to 1.25/1.25/1.5/1.5/1.5/1.5

Adjusted Cruiser DMG against Missiles to 1/1/1/1/1

Adjusted Mobile Anti-Air Vehicle DMG against Missiles to 1/1/1/1/1/2/2

Adjusted SAM Launcher DMG against Missiles to 2/2/2/3/4/5.5

Adjusted Theater Defense System against Missiles to 8/910/11/14/15

Adjusted Cruise Missile HP to 2/3/4/11/14/16

Reduced Cost/Time to Relocate Headquarters - allowing players to quickly recover from losing their HQ and/or re-cente their military "Schwerpunkt" (center of gravity)
Removed all resource / money costs

Set construction time to 12 hours

150 Player Overkill Map Adjustments
Upon popular request by our Balkan friends: Updated borders between Serbia, Montenegro and Macedonia to match "real" borders

Increase Playable Nation count to 150 Players (added Botswana, Senegal, Andorra, Kosovo, Cyprus, Bahamas, Caribbean States, New Caledonia, Luxembourg, and Eritrea)

Swapped various cities to create above nations

Remove 1 Towed Artillery from small nations (1 city and 2 city nations)

Added missing connections in Linz, Austria

Added another sea lane to Fiji, Pacific

Added Caribbean Islands

Added Madeira Island

Added South Georgia Island

Swapped starting units for AI nations: they have 1 National Guard instead of 1 Motorized Infantry now

Removed all level 2 starting Bunkers from the map

For small island nations we swapped the Tank Destroyer for a Corvette (not the car)

Swapped all UAV for Air Superiority Fighters on the map

Added Airborne Unit and Airfield for all nations with 3 cities or more

Unified all player cities to have at least 2 Motorized Infantry (up from 1)

64 Player World War 3 Map Adjustments
Moved Airborne Infantry away from the capital to the countryside to avoid confusion among new players, and added an airfield to the province they are now located in. Replaced with 2 Motorized Infantry.

Increased the amount of randomly generated resource provinces by 1-2 per nation, in order to encourage more resource influx and strategic competition on the map.

Fixed missing connection in Irish Sea. (Still unsure how ships got there in the first place, however the sea province was missing sea connections)


FIXES
Fixed an issue with the casualty counter displaying wrong statistics in the score and newspaper

Fixed an issue where missile launchers would unintentionally lose their missiles causing the reload timer to set-off upon landing

Fixed missiles from getting stuck if targets moved out of range during their attack

Fixed several issues with game translation strings breaking

Infantry officers lvl 2+ had wrong camouflaged unit assigned

Added missing image for flying missiles

Added Steam and Chrome icons to the game loading screen

Added a notification for cases where missiles miss their target (when at sea)

//Your CoN Team
#rushopulon

Dorado Games
Conflict Of Nations

The post was edited 2 times, last by Germanico ().