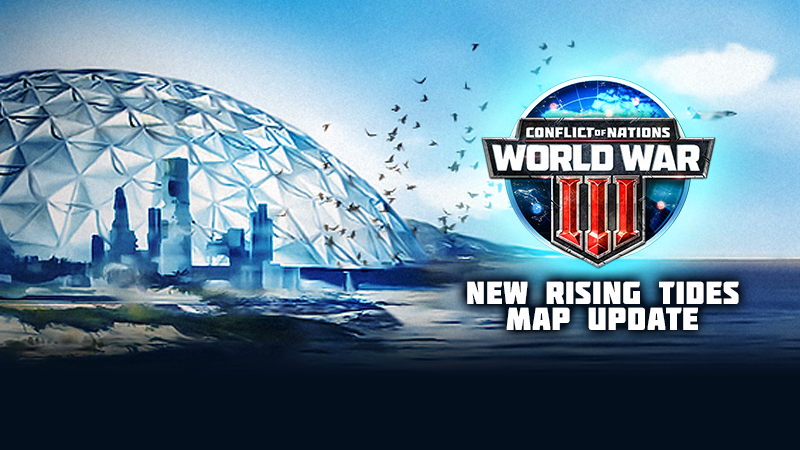 + + + + WEEKEND EVENT + + + +
STARTING NOW. RISING TIDES MAPS WILL BE GENERATED OVER THE WEEKEND.
The new map introduces new mechanics that shift the status quo on the battlefield. It is very important that you look at the map-specific rules if you intend on winning in this map.
Read about the new Rising Tides mechanics here!
We aim to provide you with a unique strategy game found no where else, pushing the limits of our in-house game engine and toolsets.
New Map - Rising Tides
A brand new dystopian map set in the not too distant future, featuring:


Strategic Sites - Buildings which account for 1000 VP to those who capture and hold

Complexes & Shielded Complexes - Cities which can be shielded if the criteria are met

Rising Tides & Sea channels/Inland seas - New Sea channels and shores change the way you plan and strategize in your local area

Dead zones - Quarantined zones which cannot be traversed and do not offer resources

Antarctic continent - The Antarctic gives proves to be a useful base of operations, out of reach in the early game

128 Playable nations - New potential hotspots in North America, South America, and the East

Special starting Unit setup: All nations start with Level 5 Motorized Infantry, Air Superiority Fighter, and Combat Recon Vehicle units to use from game start

The Chosen: A post-modern Insurgent faction with upgraded equipment and reinvigorated initiative


New Unit: Enforcer


Superior Anti Fixed Wing, Anti Rotary Wing, and Anti Armor damage

Stealth




//Your CoN Team
Dorado Games
Conflict Of Nations