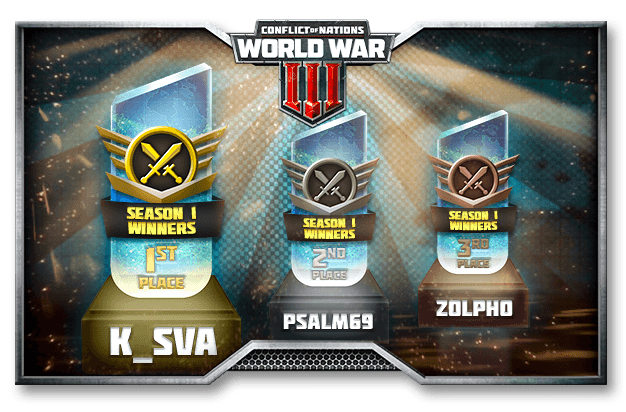 + + + + SEASON 1 - END + + + +
With the very first Season officially under wraps, we would like to congratulate everyone on their attainments during the global event. Top players have achieved as much as twenty two times the amount needed to unlock the Seasonal Unit, proving their place among the top 10. If you did not yet purchase Security Council, you are still in time as there is a 24 hour grace-period which allows you to unlock the Seasonal Unit if you have enough points.
Congratulations to the top 3 victors, who won 3 months worth of Security Council (which includes the Seasonal Unit)
K_SVA

PSALM69

ZOLPHO

Stay tuned for Season 2 (Coming November), where a fresh Leaderboard and brand new exclusive Unit await!
Dorado Games
Conflict Of Nations