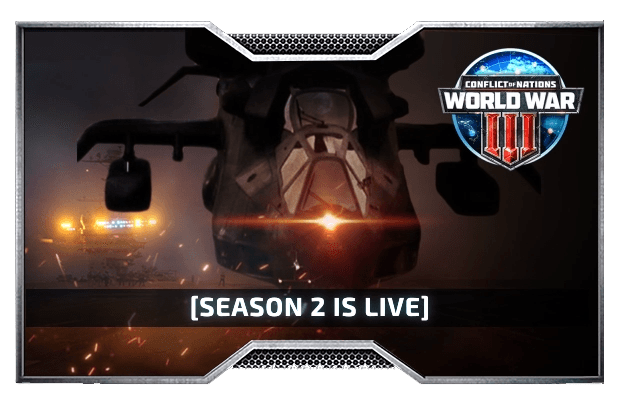 + + + + SEASON 2 + + + +
SEASON 2 is LIVE
Featuring: New Elite Attack Helicopters
Season 2 finishes 28th January, 2020 13:00:00 (UTC +0)

The Elite Attack Helicopter boasts superior firepower versus armored units. Its arsenal, coupled with incredible mobility, also makes it deadly against soft and naval targets.
Upgraded versions include:
Storm Unit: Ignores enemy entrenchment bonuses

Army Boost: +2% ATK for all rotary wing aircraft stacked with this unit

Defense against fixed Wing Aircraft

Reduced refuel times

Stealth

In case this is your first Season, you can read more information
here
, and check out the new Seasonal Leaderboard tab in the main menu.
Here's a rundown how Seasons work:
Season 2 features three new Elite Attack Helicopters, one for each doctrine:


RAH-66 Comanche (Western)

Flying Lightning (Eastern)

S-97 Raider(European)


Earn Season Points by killing units in any of your games - they all count!

Try out the unique Seasonal Units, available to everyone! (NOTE: Only available for new games starting now)

Season 2 Units can be researched from a new tab in the Research Panel. If you Unlocked the Elite Tanks in Season 1, you are still able to research them.

In order to permanently unlock the Seasonal Unit and use it after the Season ends, you must earn at least 2,850 Season Points and have a valid Security Council Pass.



+ + + GENERAL UPDATE + + +
Changes:
WWZ Map:


Reduced Zombie speed in Open and Desert Terrain from 2.25 to 1.88

Reduced AI activity slightly

Increased Hive construction time from 4 to 8 hours

Fixes:
Removed Decontaminator text from building requirements

//Your CoN Team
Dorado Games
Conflict Of Nations

The post was edited 2 times, last by Yak ().