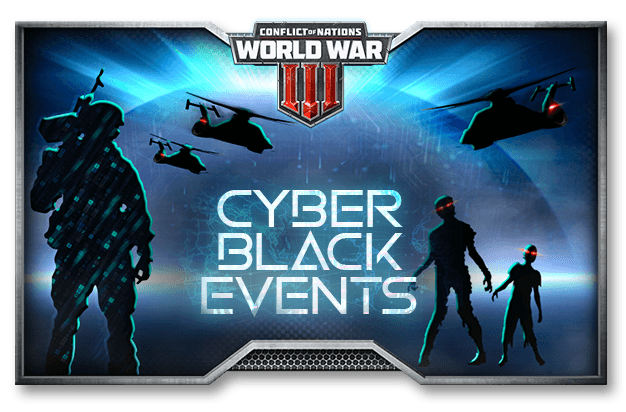 + + + + SPECIAL EVENTS + + + +
This weekend you will see some much beloved maps make their return, and the brand new Rising Tides map makes it's debut - Cyber Black. Keep your eyes peeled in the coming days for fantastic cyber weekend deals which will intermittently popup!

Cyber Black
Cyber Black is a special event map making it's debut just in time for Black Friday. With standard time and 4x variant available, in the coming days you will have the opportunity to join one of these hectic games which feature:
Rising Tides Formula

64 Players

Themed background

Includes new Chosen Command Post:


12 Hour construction time which begins when the Chosen take over a city

Enables spawning of two Enforcers (instead of one)

Provides entrenchment bonus

Continuously reduces city morale, further increasing the chance of more Enforcers spawning

Halts population growth


WWZ
The WWZ map brings the return of the undead; with two variants being offered. If this is your first time playing this map, you can read up on all the details on our
wiki
.
WWZ - 64 Player

WWZ 4x - 128 Player


WORLD WAR 3 APOCALYPSE 4x
World War 3: Apocalypse 4x event games boast a playable number of 64 countries, all of which demand intricate planning and strategy from you, Commander. The Apocalypse map features an explosive list of special conditions:
Nuclear Warheads are in the player Inventory from Day 1

All Research is available from Day 1

Rank required: (Private) 2+

Non-Premium players are inactive after 6 realtime hours


Independence Day
The 4th of July map makes it's return with speedy research and tense scenarios of nuclear warfare.
All Research available from day 1 and completes 100% faster

A starting number of Nukes will be available from game begin

World War 2020 Map (64 Players)

Dorado Games
Conflict Of Nations